The Chinese Garden is situated on approximately 11 acres of land on the Hope Royal Botanic Gardens/Hope Estate in east Rural St. Andrew along the Blue Mountain range. It was built and given to the people of Jamaica as a gift for Jamaica's 50th Independence Anniversary (1962-2012) and also to commemorate forty years of diplomatic relationship between both countries (1972-2012).
It was constructed by the Chinese Government as a gift to Jamaica marking the 43 years of diplomatic relations between Jamaica and the People's Republic of China.
The construction of the garden started in February of 2014 and was completed in July of 2015, duration of 17 months. It is the only one of its kind in the Caribbean, Central and South America.
The Garden was officially opened on August 19, 2015 by the Hon. Portia Simpson Miller and the Charge D'Affaires of the People's Republic of China, Mr. Zia Guoshun.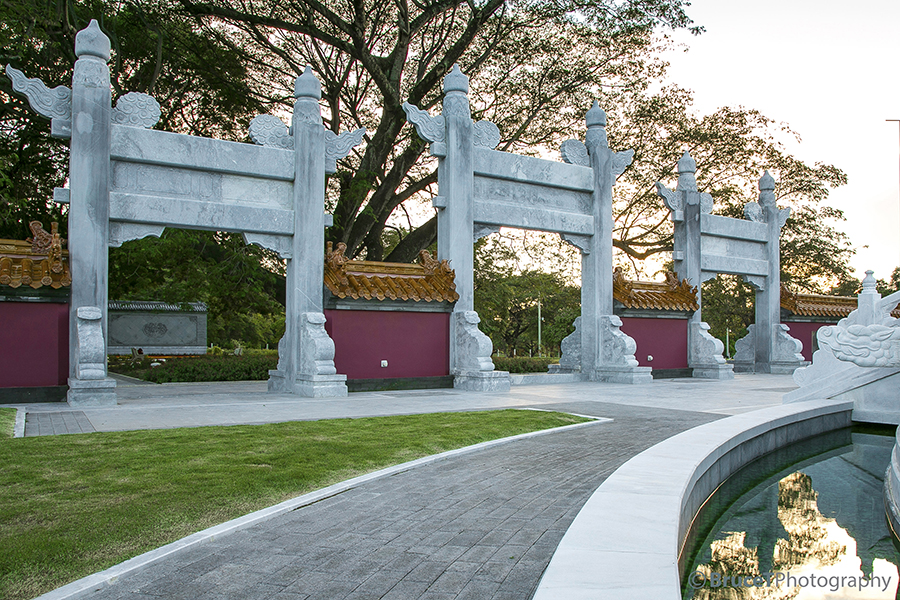 The garden reflects aspects of Chinese architecture informed by the philosophy and harmony of Feng Shui. The name of the garden is the Harmonious Enjoyment Garden and was so named because of the harmonious relationship both countries enjoy.
Features of the Chinese Gardens include a lily pond outlining an aspect of the Jamaican island. The garden's architecture also features certain aspects of the Chinese Forbidden City, an ancient imperial palace in Beijing, China during the era of the Ming Dynasty.
The Yingbi Wall or Shadow Wall, Spirit Wall, Screen Wall at the entry gate is so placed as a symbol of rank and was usually placed in front of Mansions, Palaces and Monasteries. Today, it stands as a friendship wall symbolizing the harmony between China and Jamaica.
The Imperial Garden was constructed with material that came directly from China such as slate, alabaster tiles, glazed clay and marble. The main gateways into the Imperial Gardens are an indication of outstanding Chinese architecture, mythology and the philosophy of Feng Shui.
The Circular Mound or The Seat of Heaven is a replica of the one that was built by the Ming Dynasty in 1530 which covers an area of over quarter mile of land and stands 17 feet high. The mound covers an area of 55 feet while standing 10 feet high.